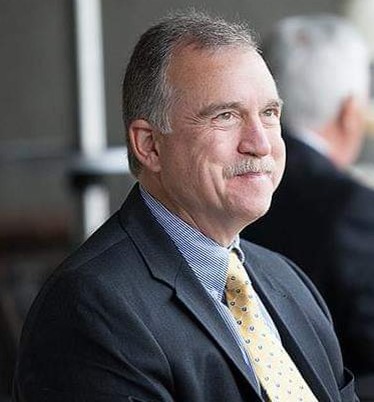 On March 8, we lost one of our cherished partners, Bob Chatham, after a courageous 10-year battle with cancer.  His family shared the following words in his honor:
Dedication; that's the word most often used to describe our brother, Bob.  For a little more than 67 years, that dedication was evident throughout his life – as an athlete, a gardener, and a chemist.  Devotion is another word perfectly suited to him. He was whole-heartedly devoted to his family, his friends, and his church.
But, it was his dedication AND devotion to cancer research that occupied so much of his time over the past ten years.  He was determined to understand, and fight against, this terrible disease.  It was a battle until the end; and, a battle which we believe he won.  Despite a two-year prognosis, his opportunity to participate in several clinical trials allowed him significantly more time to make memories with his loved ones.  Those loved ones include his three older sisters – Margaret Ammons of Garden City, Linda Vereen of Myrtle Beach, and Betty Ellison of Lexington – as well as countless cousins, nieces, grand-nieces and nephews, partners, employees, neighbors, and friends.
He spent his whole life in South Carolina – born in Columbia; raised in Cayce and Myrtle Beach; and settled in Greenville.  He was a graduate of Airport High, and the University of South Carolina, after which he moved to Greenville and started his lifelong career as a chemist, where polymers were the name of his game.  He loved his work, and the relationships he created at the plant were some of his most treasured.  He worked alongside those friends as Vice President of CPJ Technologies, Inc., until shortly before his death.
He also never met a green plant that he couldn't save – the results were perched in the bright windows of his home and office.  Enormous Christmas cacti, bulbs, ferns, and more; they all thrived under his careful watering and filtration schedule.  This love of gardening was passed down from his parents, Robert L. Chatham, Sr., and Mary Lee Bowers Chatham, of Cayce.
He was equally focused on his physical fitness and healthy eating habits.  He spent much of his youth playing football, baseball and tennis but after an early broken leg, he switched his focus to soccer, where he excelled as goalie.  Adult soccer leagues and pickup games as well as volleyball games, preoccupied his weekends until he was forced to scale back his activities.  His treatments also caused him to reduce his gym commitments, but he continued to focus on staying strong and active.
Although he didn't travel as often as he would have liked, he spent many years traveling to the beach for family holidays – sometimes with a trunk loaded down with fireworks for the Fourth of July, and other times, with a trunk loaded down with handmade birthday or Christmas gifts.  He also loved to cheer on the Gamecocks, whether from the comfort of his home in Greenville, or from the stadium seating in Columbia.
His faith was also of utmost importance to him.  He grew up in the Church, and that devotion continued throughout his adulthood.  His home Church, Edwards Road Baptist Church, was only a few blocks from his home, and he so enjoyed visits from his Church family and pastor.  From singing in the choir to Sunday sermons and bible studies, his love of the Lord was clear.  Although we fervently prayed for another miracle, we are comforted in the knowledge that he is in Heaven, welcomed by his parents, his brothers-in-law, and many friends and family.
He was born on December 8, 1953, and passed away, peacefully, on March 8, 2021.  A life well-lived, and a battle well-fought; we will forever be proud of our Sonny Boy, Baby Brother, and Unca Bob.  We will miss you, without measure, and can only hope that we loved you well enough.