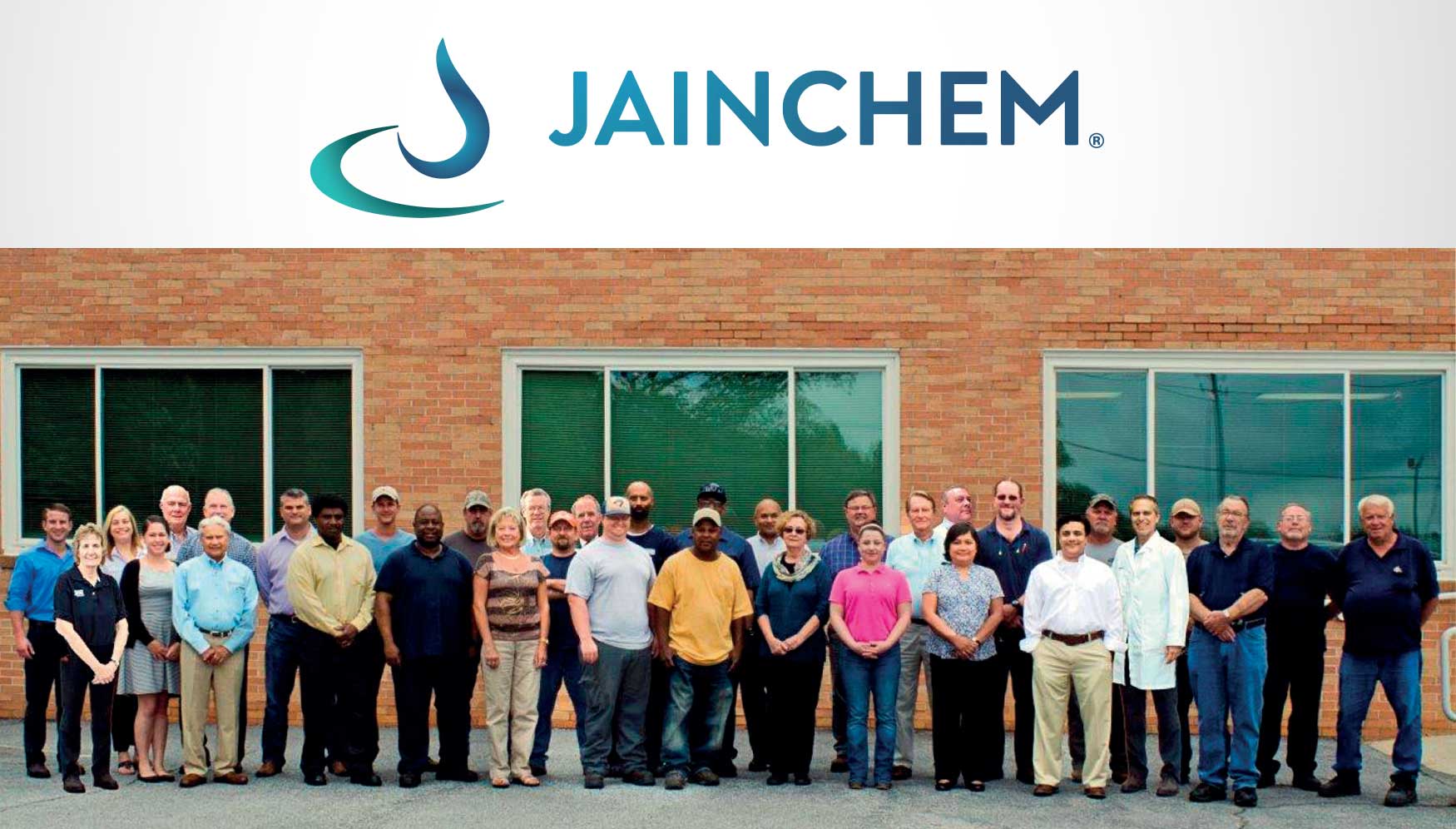 First appeared in "Greenville's Grand Design" in the Greenville News
It was a natural extension of Surendra Jain's family background in textiles for him to expand that expertise into the manufacturing of textile adhesives and coatings. The native of Amritsar, India combined his knowledge and experience with a degree in chemistry from the University of Bombay and further study at the Philadelphia College of Textiles to enable him to open Jain Chem, Ltd. in 1977. 
 Originally specializing in the marketing of adhesives and coatings to the textiles, packaging, disposable nonwovens, and fiberglass industries, Jain later expanded his venture to include the manufacture of chemicals with a focus on developing environmentally friendly "green" products through the use of natural and recycled raw materials. 
Manoj Jain, the founder's son, became the second generation of the family to enter the business. Born and raised in the Greenville area, Manoj worked with his father while in middle and high school, engaging in plant activities and learning the basics of the chemical business. Upon graduating from the University of South Carolina with a BA in Humanities and Social studies, Manoj worked in the insurance industry and later as a financial advisor. 
In 2005 Manoj joined his father full time as Vice President of the company. Six years later, he oversaw the acquisition of Ulterion International, a company that primarily focused on "green chemistries" for the textile and paper industries. Manoj has remained an integral part of the Jain Chem family and now serves as President and CEO, actively managing the financial aspects of Jain Chem Ltd. and all its subsidiaries. 
Today, Jain Chem, Ltd. specializes in designing customized and unique chemical solutions for its customers across the chemical industry and for related downstream businesses. The company's research and development and technical strength helps it to better understand its customers' needs while delivering performance and adding value to their products and processes. Jain Chem's product innovation strategy is focused on developing environmentally friendly, green and sustainable products. Its business philosophy is based on providing a competitive edge with Jain Chem's products and services that help differentiate its customers from the competition in the global marketplace. 
Jain Chem has over three decades of experience in the production of chemical products. The company's highly qualified staff is completely customer focused and service-oriented, fully capable of designing solutions for the problems and challenges its customers face. Jain Chem's primary goal is to satisfy its customers' requirements with the highest regard for safety in our operations and our environment. The company adheres to the highest quality standards and its manufacturing facility, CPJ Technologies located in Taylors, South Carolina, is ISO 9001:2008 certified. Being in close proximity to Greenville, Jain Chem is ideally located to supply not only its customers' domestic locations, but can deliver globally as well. Jain Chem's recent acquisition of Ulterion International has given the company a strong global presence and offers its customers a more diverse portfolio of products and services. 
Jain Chem's business model is focused on building partnerships with its customers to provide them the highest level of support in their areas of interest. The company's management team understands that Jain Chem will grow and prosper only if its customers grow and prosper. They are, therefore, totally committed to supplying products and services that meet rigid quality standards while providing a safe and rewarding work environment for the company's associates. 
Serving Diverse Markets with Cutting-edge Products
Jain Chem, Ltd. serves a wide range of industries and applications, including textiles, automotive, paper and packaging, fiberglass, and others. The products the company provides to its customers is an indication of its imprint in those markets: 
Textiles, polymers, scours and surfacants, specialty coatings

 

Binder chemistries for non-wovens

 

Lubricant chemistries

 

Fiberglass treatments

 

Denim specialty chemicals

 

PET-based polyols

 

Dyeing auxiliaries

 

Resins and catalysts

 

Mold and mildew resistants

 

Flame retardants

 

Floor polish

 

Adhesives

 

Coatings for the paper and packaging industry

 
Jain Chem's broad technology know-how enables the company to leverage its manufacturing capabilities to perform a variety of chemical reactions and syntheses. Through close association with its partners, Jain Chem develops custom or exclusive products to meet their specific needs. In addition, Jain Chem has several proprietary chemistries available to meet customers' requirements. 
Supporting Customers Locally and Worldwide
With chemists who have decades of experience in their field comprising more than thirty percent of its technical staff, Jain Chem stands ready to provide its customers with complete support for its technical development needs. That support extends from the laboratory bench to pilot scale, to commercial scale-up, to providing technical support at the customer's facility. The goal is to provide innovative and sustainable solutions to ensure each customer's competitiveness in the global marketplace. Jain Chem's Technical Sales and Support team members are always available to help improve or optimize a customer's process, provide cost saving ideas or provide a customized solution approach. The company's analytical lab is fully capable of troubleshooting a customer's chemical problems with state-of-the-art analytical instruments such as FTIR, GC, and other tools. Jain Chem's strength in wet chemical methods is complemented by its instrumental access, which also aids the company's product development projects. 
With its cutting-edge technology, global capabilities, and laser-like focus on customer satisfaction, Jain Chem, Ltd. is poised to remain a leader in its field and a strong contributor to the diversified economic base of Greenville.